THROUGH SEVERAL YEARS OF RAPID DEVELOPMENT,
THE GLORIOUS ACHIEVMENTS OF COSLIGHT ARE PRAISED.
THE COMPANY IS WELL-ESTABLISHED IN THE MARKET BY TALENT STRATEGY.
THE SOUND SUSTAINED DEVELOPMENT IS THE GOAL OF COSLIGHT.
COSLIGHT IS GROWING AND WILL HAVE A BRIGHT FUNTURE.
COSLIGHT IS WILLING TO COOPERATE SINCERELY WITH FRIENDS IN ALL FIELDS AT HOME AND ABROAD TO CREAT A BRIGHT 21 CENTURY.

The enterprise culture is a headspring of enterprise's increasing force, and the soil for the enterprise success.
The enterprise culture is a gold spirit asset of Coslight, and a immateriality asset of Coslight. Through the continue, convection enterprise spirit and value of enterprise to make Coslight has a strong centripetal force and coherence force. The Coslight-person convinces: Only to put modern culture melt into enterprise, to model enterprise's visualize, to brighten the enterprise spirit, then the Coslight has its 21 century's developing culture.
The new century's first light of morning is starting in dark, the Coslight-persons with full ardour are working out a strong and vigorous step; bring a seeking of progress and developing and a endless longing to modern civilization. The Coslight-persons will use self-intelligence brain to write a new enterprise culture with the characteristic of Coslight.
The Ideal of Coslight
The operation ideal is a important consisted part of Coslight, and a philosophic, practicability guide thinking which was accumulated in developing course of Coslight, it contains a endless force for tomorrow development of Coslight-persons.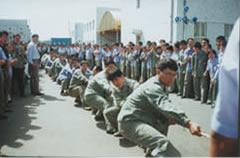 Enterprise Strategy:
Seeking quality, Exceeding uncommon, and Standing on China, Working to word.
Enterprise Management
Rationalization system, Rigorous organ, Scientific method, Specialization personnel, Modernization means, Lead thought.
Talent Ideal:
Respecting person's value, Digging person's potential ability, Modeling talent with Coslight
characteristic.
Quality Ideal: Seeking the highest quality level in world.
Service after Sale: letting yours satisfactory, promoting us to developing.

TRADEMARK CULTURE
The enterprise¡¯s identification is a important composing part of modern enterprise culture, enterprise¡¯s visualize represent, the specific condensation of a enterprise spirit and a stability visualize foundation of trademark zing, internationalizing, normalizing for implementing enterprise operation.
Coslight¡ªwith the speed of light to feel the infinity energy in cosmic. It brilliant shows the enterprise¡¯s developing speed, and the probe step relative to new type energy. It visually exhibits the enterprise¡¯s main business energy products, and deeply reappearance enterprise¡¯s developing idea.
The Coslight pattern identification is composed by a rectangle background, English word ¡°coslight¡± and a differentiation English letter ¡°C¡±. It possesses a harmonious and consolidate aesthetic feeling.
The main body of pattern identification is a English letter ¡°C¡± composed by 21 ellipses with same size, it means the enterprise¡¯s nicety developing foreground in 21 century, elaborates the enterprise¡¯s developing idea following in proper sequence and making steady progress, and a strength enterprise¡¯s condensation force, centripetal force. The integrated letter ¡°C¡± gives a flash moving feel for one, full appears a guiding idea of seeking a balance in the moving, shows Coslight group¡¯s infinity vital force and energy, indicates a infinitude, refulgence future road of Coslight.
Under the main body English letter ¡°C¡±of pattern identification is a English combined word ¡°COSLIGHT¡± which is composed by the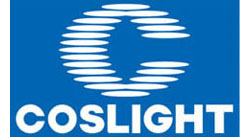 word ¡°COSMIC¡± and ¡°LIGHT¡±, it deepens the intention of coslight from globality direction, brilliant stands out the necessity state of coslight¡¯s international developing, radiates the enterprise¡¯s developing idea, a infinity developing space of ¡°light of cosmic¡± and ¡°with the speed of light to feel the infinity energy in cosmic¡±. The steady, simple font reappearance the characteristic of coslight culture: ¡°Conducted oneself by honest, developed by trust¡±.
This identification adopts blue and white as main colors which represent the color of cosmic, these colors are more visually to depict out the mystery and enigmatic of cosmic. It shows the characteristic of time of a high science-technology industry, brilliantly transfers a continuous innovating ardors, contains a huge potential energy of enterprise developing in future.
The pattern identification adopts a steady rectangle as the background. It shows the guiding idea of our enterprise i.e. seeking the development in a steady state, and appears the group¡¯s boundless strength and a stability developing basis. The integrated background is simple and visual, it means a modern enterprise management¡¯s normalizing and feeling of time.
The integrity enterprise VI design will bring a refreshing feeling to the society, establish a good enterprise visualize of coslight, and bring a infinity space of coslight¡¯s globe developing in future.